Pavers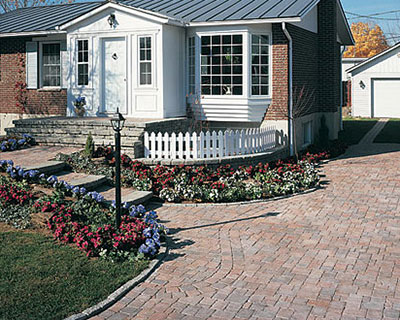 Paver structures are common features in residential and commercial properties in Ohio. This is not surprising since pavers can easily enhance the appeal of any outdoor space. These materials are best used on patios, driveways, walkways, sidewalks, and other outdoor living amenities. They are recommended for outdoor use because of their durability and resistance to harsh weather conditions. You can also enjoy these benefits by installing paver amenities in your home or commercial property. Use top-quality paver products to achieve elegant and long-lasting outdoor amenities.

If you are still looking for a local supplier of top-quality pavers, please call Raymond Builders Supply at (440) 466-4470 or (440) 942-9384. You may also visit our shop at Geneva to see for yourself our large collection of premium quality paving materials. We have already served countless customers from Geneva, Mentor, Ashtabula, and Cleveland, OH. Majority of our customers are DIY homeowners, established contractors, landscapers, and hardscape builders who believe in the wonderful benefits of pavers. In addition, the positive testimonials they have given us are proofs of our excellent customer service. We can quickly process your purchase and have the products delivered to your project site without any delay. We can guarantee this kind of service because of our large inventory of paver products.
Paver Designs
The great thing about pavers is that you can choose from a variety of designs. You can choose your preferred color, pattern, size, or finish to suit your design taste and requirements. It is also easy to create custom designs or specific theme that can highlight the beauty of your paved amenity. If you want a simpler design, you may opt for common paver patterns such as basket weave, running bond, herringbone, fan, and circular.
Paver Types
There are different types of pavers that you can use for your outdoor improvement project. You can opt for concrete, bricks, or stone paving, depending on your available budget and the type of pavement that you will install. If you are still confused which of these materials will perfectly suit your paving project, hire expert paver installers? They know the right installation methods and techniques and the perfect paver type for your outdoor amenity. You can have a themed stone paver patio, a slip-resistant pool deck, or a tough but appealing concrete paver driveway.
Top Paver Brands
The paver features and amenities in your property will last long if you will choose tried and tested brands. Top manufacturers guarantee the quality of each paver product that they offer to the public. The pavers are now extremely durable because of modern manufacturing methods and facilities. You will also enjoy the great design selection that these leading companies offer. Some of them even offer custom designs and themed paver collection. So what are the brands that we can recommend for you? Please take a look at our short list below:
Belgard
Allan Block
Unilock
Versa-lock
Keystone
Reading Rock
Oberfields
Rockwood
Consider these brands when you purchase paving materials for your outdoor feature installation project. The prices of their offered pavers may vary, but they are all guaranteed top-quality.
"MORE ARTICLES"
Building Supplies
Landscaping Supplies
Bricks
Natural Stone
Stone Veneer