Landscaping Supplies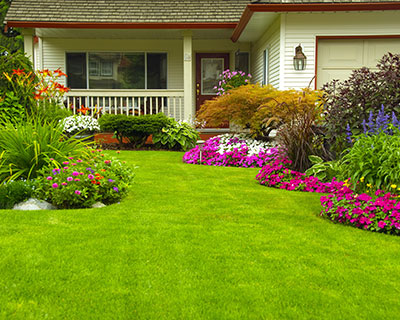 The beauty and functionality of your outdoor space can be enhanced dramatically if you have a professionally designed landscape. Professional landscape contractors can easily realize your dream setup or theme. They can also suggest features and amenities that will make your outdoors a perfect place for rest and relaxation. But aside from choosing a well-experienced contractor for your outdoor improvement project, you should also find a reliable supplier of landscaping supplies. Getting materials from an established supplier will ensure the smooth flow of your landscaping project. Whether you do it in a DIY way or through the help of a landscaper, it is vital to get your needed materials and supplies from a trusted supplier.

If you are still searching for a material supplier, we urge you to contact us at Raymond Builders Supply. We can provide you with all your needed landscaping supplies at client-friendly rates. We also maintain a large inventory of products and materials, so we can supply big landscaping projects in residential and commercial properties. You can also trust us that we offer only the best brands and top-quality products from partner manufacturers. Our objective is to help you achieve a perfect outdoor setup by providing you with all your needed landscaping materials. We are also your best ally if you have a limited budget. Our friendly staff will suggest several options to help you avoid spending beyond your set budget. We can deliver all your orders if you're from Geneva, Mentor, Ashtabula, and Cleveland, OH. Dial (440) 466-4470 or (440) 942-9384 to place your orders.
Premium Landscaping Supplies
A complete landscape setup is composed of different elements and features. Aside from the softscape elements, you will also build or install hardscapes, fire and water features, wood elements, and outdoor living amenities in your landscape. These features and amenities can effectively enhance the look and appeal of your property. However, the quality of the landscaping supplies used during the installation can affect the beauty and longevity of your features and amenities. You need to ensure that only the finest materials will be used on your landscaping project. Get these materials from reliable suppliers since they can offer premium-quality products that are carefully selected from leading manufacturers.
Landscaping Supplies Checklist
You can enjoy a hassle-free project by creating a well-thought-out landscape plan. The first thing that you should do is to create a checklist of all your needed landscaping supplies. Here are some of the common landscaping materials that you may need for your project:
Pavers
Retaining wall blocks
Natural stones and boulders
Concrete blocks
Edge restraints
Paver sealers
Bricks and brick veneers
Stone pavers and flagstones
Grout and mortar
Architectural blocks
Cast stones
Pipes and drainage supplies
Top soil
Mulches and fertilizers
Paving sand
A reliable supplier can provide these landscaping supplies at competitive rates and offer prompt deliveries anywhere in Ohio. Proper handling of bulk materials will not be a problem since large suppliers use appropriate tools and equipment when transporting your orders. For example, the concrete pavers, natural stones and boulders, and other masonry products should be delivered in proper packaging and handled by well-trained personnel.
"MORE ARTICLES"