Owens Corning Company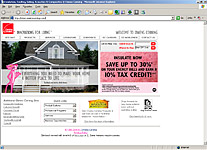 www.owenscorning.com

Since 1938, Owens Corning has been improving the way people live, work and play because we have never stopped asking ourselves, How can WE make things better? Over the years, we have innovated countless uses for fiberglass material, as well as pioneered the development of building and composite products made from other materials. Today, we are the recognized market leader, providing complete solutions for our customers' needs.