Keene Building Products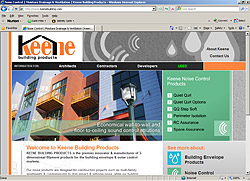 www.keenebuilding.com

Our noise products are designed for construction projects such as multi-family apartments & condominiums to stop impact & airborne noise, while our building envelopes products can be utilized in wall, masonry, roofing, & foundation applications to eliminate moisture issues. For Impact Sound Control products, please see our QUIET QURL® product line. For Ceiling Isolation please see Acoustical Assurance™ products such as RC Assurance™. For Building Envelope Drainage & Ventilation please see our DRIWALL™ products such as weep vents, mortar collection devices, & full wall rainscreen applications.