Natural Stone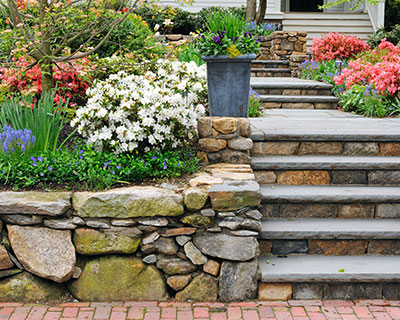 Natural stone is one of the most widely used materials in construction and property improvement projects. It is recommended for both indoor and outdoor applications and generally used for decorative purposes. No other material can match the durability and toughness of stone. In fact, a lot of stone structures that were built centuries ago are still standing up to this day. They can withstand the test of time without losing their natural beauty. Moreover, majority of builders choose natural stones because they are easy to maintain compared with other types of masonry materials. If you also want to have elegant and attractive features and amenities, use natural stones when renovating your home or building a new structure in your property. Just ask for professional assistance when choosing the type of stone for your project.
It is also important to get your needed natural stones from reliable quarries or suppliers. This will ensure that only the finest quality stones are used on your project. Raymond Builders Supply is the premier source of natural stones in Northeast Ohio. With more than six decades of experience in this business, we have acquired an in-depth knowledge about the characteristics of each type of natural stone used for construction and landscaping projects. We have partnerships with leading quarries in the region, so you are assured of top-quality products. You can also order in large quantities and have them delivered anywhere in Geneva, Mentor, Ashtabula, and Cleveland, OH. Please call us now at (440) 466-4470 or (440) 942-9384 for your inquiries or orders.
Natural Stone Application
Natural stone is a versatile masonry material since you can use it in a variety of applications. Aside from indoor and outdoor applications, they can be installed on any type of property - residential, commercial, or industrial. If you are after the elegant appeal of your outdoor structure, you should use them on your patio, deck, driveway, walkway, and entryway. Stones are also great for vertical structures. The aesthetic appeal of your walls can be enhanced dramatically with the installation of stone veneers. They also serve as an excellent protection for your walls. You will also achieve a more interesting landscape setup by using natural stones in garden areas, waterscapes, and fire features.
Types of Natural Stones
Choosing the right type of natural stone for your project is still vital to achieve your desired results. There are stone types that are best used for outdoor amenities while there are others that are recommended for indoor applications. The specific function of the amenity will also determine the type of stone to use. For example, use slip-resistant stones for frequently wet areas such as pool decks and walkways.
Meanwhile, most contractors, hardscape builders, and landscapers recommend these stone types:
Granite
Slate
Bluestone
Marble
Fieldstone
Flagstone
Boulders
Buying Quality Stone
As mentioned, you have to find a reliable supplier to get the finest natural stones for your project. Your best option is to rely on established suppliers since they have access to top quarries in the region. Choose a natural stone that is quarried from known sources like the Pennsylvania bluestone and Maryland flagstone.
"MORE ARTICLES"
Building Supplies
Landscaping Supplies
Bricks
Pavers
Stone Veneer