The Belden Brick Company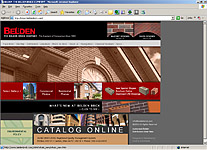 www.beldenbrick.com

Raymond Builders Supply is proud to be Authorized Distributors for the Beldon Brick Company.

The Belden family has proudly stamped our name on billions of brick products throughout our hundred plus year history. We're proud of our heritage, proud of our people, and proud to have successfully served the building industry for so many years.