Natural Stone Veneers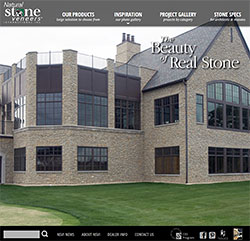 www.nsvi.com

Those are the words of Dennis Buechel, President of Natural Stone Veneers International, Inc.® They not only express a belief which brought about the inception of NSVI™, but they continue to hold true as the business continues to grow.

The corporate seats held by Dennis Buechel (President), his wife Renee (Secretary and Treasurer) and sons Joe and Jason Buechel (Vice Presidents) are hard earned and long in coming. After years in a small family stone business, Dennis took the experience he gained in all phases of the quarrying business plus knowledge in the fields of management, marketing and equipment design and broke away on a new venture. His plan? To create a natural stone veneer product which would be lighter, easier to install and ultimately less costly than traditional stone facings. The first step was to design and build equipment to create such a product since nothing in the stone industry could come close to producing a thin veneer. In 2002, the company opened its doors as Natural Stone Veneers International LLC in Fond du Lac, Wisconsin. By 2004, Dennis was awarded a patent for the unique machinery he designed to cut natural stone into slices of 1 to 1-1⁄2 inches in thickness, and the growth of the company — now Natural Stone Veneers International, Inc. — has never stopped gaining momentum.