Patio Block
We carry a large assortment of patio block, decorative stone, and gravel.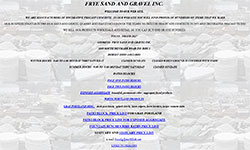 www.fryesandandgravel.com
FRYE SAND AND GRAVEL INC.
WE ARE MANUFACTURERS OF DECORATIVE PRECAST CONCRETE . IN OUR WEB SITE YOU WILL FIND PHOTOS OF HUNDREDS OF ITEMS THAT WE MAKE.
OUR BUSINESS STARTED IN 1969 AS A SAND AND GRAVEL QUARRY AND HAS EVOLVED OVER THE YEARS TO INCLUDE READY MIX CONCRETE IN 1973 AND DECORATIVE PRECAST IN 1985. WE SELL OUR PRODUCTS WHOLESALE AND RETAIL SO YOU CAN BUY ONE OR ONE HUNDRED.