Endicott Clay Products Co.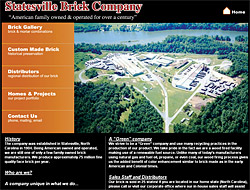 www.statesvillebrick.com

The company was established in Statesville, North Carolina in 1904. Being American owned and operated, we are still one of only a few family owned brick manufacturers. We produce approximately 75 million fine quality face brick per year. Statesville Brick has been an innovator in the development of processes and techniques that have been adopted by brick manufacturers nationwide.