Advanced Cast Stone, Inc.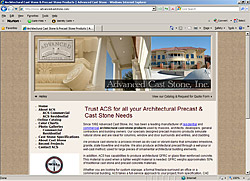 www.advancedcaststone.com

Since 1992 Advanced Cast Stone, Inc. has been a leading manufacturer of residential and commercial architectural cast stone products used by masons, architects, developers, general contractors and building owners. Our specially designed precast masonry products simulate natural stone and are ideal for columns, window and door surrounds and entries, and cladding.

We produce cast stone by a process known as dry-cast or vibrant-damp that simulates limestone, granite, slate travertine and marble. We also produce architectural precast through a wet-pour or wet-cast method; used for large pieces of ornamental architectural building elements.